Posted: April 26, 2023
By: Editorial Team
To better adapt to technological changes and meet consumers' ever-growing needs, facilities are increasing their implementation of modular wiring systems.
Modular wiring systems utilize a wiring module and a modular device, such as a receptacle, switch, or occupancy sensor, so that on-site installation is simplified into two steps: connecting the module to the building's wiring and then connecting the device to the module.
But what are the true benefits—to both the contractor and the end-user—of modular wiring solutions? Here are four benefits of modular wiring devices.
1. Efficient Installations
Due to the simplicity of connecting a module to a paired device, modular wiring systems allow for streamlined installation. Lev-Lok® by Leviton products, ranging from modular outlets to switches to sensors, allow for a three times faster install compared with traditional wiring.
2. Cost Savings
Whether it's time, labor, or total project costs, modular wiring systems help you save. Contractors benefit from a more efficient and faster installation. End-users benefit from their projects being completed faster, allowing for less downtime in their facilities. They also have an easier time troubleshooting post-installation.
See how you could save by using the Leviton cost-savings calculator.
3. Future-Proof
Modular wiring systems are beneficial even after the initial installation! Whether you're updating technology or meeting new code requirements, modular wiring devices allow for a fast and easy way to meet changing needs. And they swap out five times faster than traditional wiring, ensuring your facility is future-proof.
4. Safety & Functionality
When it's time to swap out devices for any of the reasons listed above, you can do so safely with modular wiring systems and components. Because the module connected to the building wiring is secured within a wall recess and the device is attached to the module, it is safe enough for a professional to swap a device while the power remains on. This is critical when the power must remain on, such as in healthcare facilities, airports, and hotels.
The Lev-Lok modular wiring devices employ a simple twist and lock wiring module to provide a safe and secure connection and a three times faster installation compared to traditional wiring. The robust construction and performance of Lev-Lok makes it the most cost-effective and reliable solution for high-volume projects in hospitals, hotels, airports, schools, and other commercial buildings.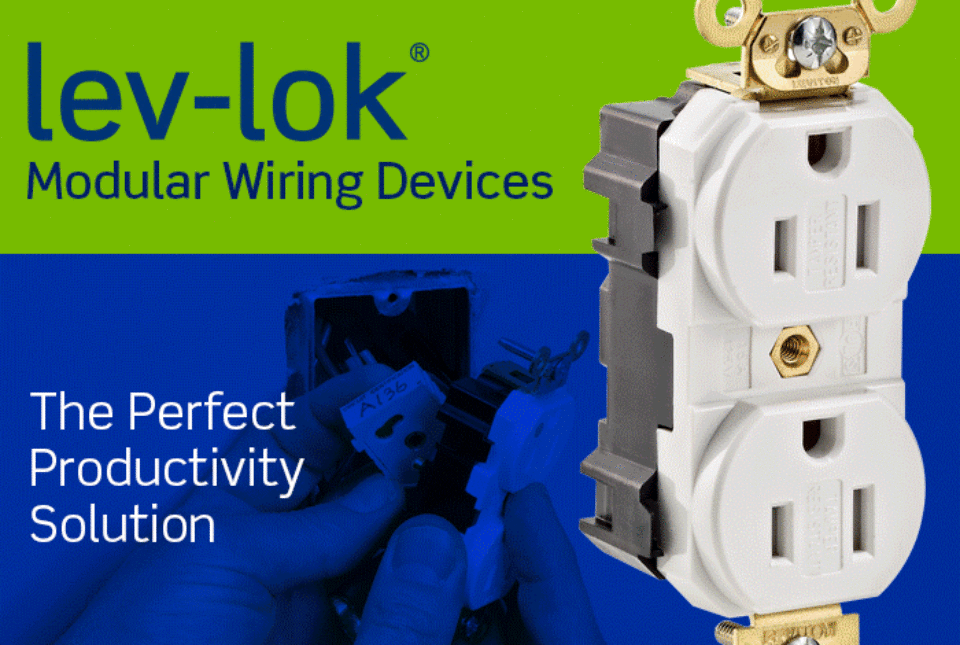 Your Productivity is our Focus
At Loeb, we hear your challenges and then provide turnkey or custom solutions to help you get the job done. Our inventory management and logistics solutions focus on increasing job-site productivity and delivering efficiencies across your entire project with modular wiring devices.
Are you ready to chat? Our experts are here to help. Contact us online or call us at 614.294.6351 today to discuss which modular wiring services and accessories you need for your next project.
Recent Posts