Posted: December 5, 2022
By: Brandi Seich
A century ago, on October 20, 1922, the Loeb Electric Company proudly shared a write-up in The Columbus Dispatch on "Progress." The exciting progress was much in part due to the completion of Ohio Stadium, identified as "a monument of civic growth." During that time, our community was thriving with the growth of electricity powering the marveled technologies of radio, telegraphy, and the telephone, with new inventions to drive speed and efficiency in development daily.
Now we find our Columbus community looking vastly different—still striving every day for greater efficiency, this time with a sustainable twist. Progress in 2022, one hundred years later, brings forward widespread electrification to: benefit the environment through reduced greenhouse gas emissions; improve quality of life; save consumers money over time; and more.
Just as Loeb Electric was proud to support the development of the Ohio Stadium and progress of Columbus then, one hundred years later we continue to proudly support the central Ohio community and the rest of the nation in advancing electrification goals. The locally run business, under 3rd generation ownership of Charles "Skip" Loeb, delivers energy-saving solutions nationally; beneficial electrification through Electric Vehicle (EV) charger projects; as well as support for residential and commercial electrical and lighting construction supply throughout central Ohio.
We've also committed to be an accelerated partner with Smart Columbus, focusing on achieving community goals in sustainability and digitalization between now and 2025.
One hundred years may have come and gone, but this is just the beginning. Through innovation and community support, the Loeb Electric team is committed to supporting our community with progress for another one hundred years and beyond.
The Columbus Dispatch "Progress" Write-Up (October 20, 1922)
It is progress that has given the Ohio Stadium to Columbus. This splendid addition to our city stands as a monument of civic growth. It is a link in the chain of a GREATER COLUMBUS. It marks a new era in our FORWARD movement.
Progress too has given us the blessings of ELECTRICITY, and it has been the privilege of this company to play an important and far-reaching part in the development of Columbus and Ohio ELECTRICALLY. Doubtless you have at some time marveled at the clean, almost, silent yet tremendously powerful operation of a great electric motor in a manufacturing establishment—driving the machinery that turns out products for your consumption. It makes the operation speedy, efficient, economical in cost of the finished product to you.
You marvel at radio, telegraphy, the telephone. Ad Infinitum. Electricity is the power behind. Can you picture a day without it?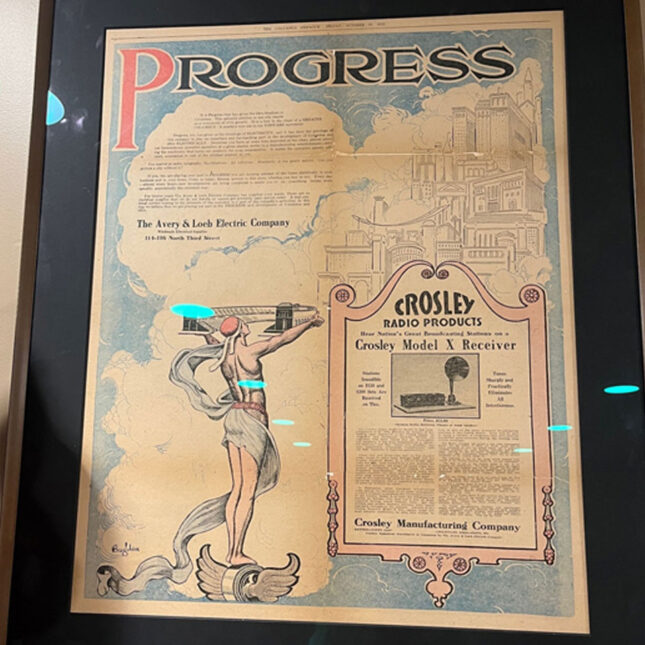 If you, too, are playing your part in PROGRESS you are keeping abreast of the times electrically in your business and in your home. Come in today. Browse around in this store, whether you buy or not. Every day—almost every hour—new developments are being completed to assist you to do something better, more speedily, economically the electrical way.
For twelve years The Avery & Loeb Electric Company has supplied your wants. There are no electrical supplies that we do not handle or cannot get promptly upon special order. A real electrical service looking to the interests of the customer is a part of the company's activities. In this way we believe that we are playing our part in the PROGRESS and development of Columbus and Ohio.
Recent Posts