Posted: November 30, 2022
By: Kerry McMahon
From rising material costs to skilled labor scarcity, there's no shortage of challenges facing electrical contractors today.
Fortunately, job productivity is a focus area for Loeb and our manufacturers. We work to reduce pain points in modular wiring and traditional wiring methods through innovations from manufacturers, like modular wiring systems (MWS)⁠, and Loeb's expert project management team.
What is a modular wiring system (MWS)?
Modular wiring is a prefabricated wiring system that arrives on the job site ready to be put in place to form a branch circuit system. These are great in both new construction and renovation projects.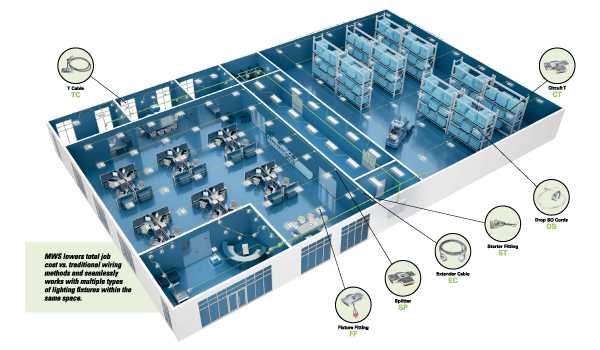 3 Benefits of an MWS
Most are aware of what modular wiring products are⁠, but are the benefits tangible enough to justify the initial investment when traditional wiring methods works just fine? Cooper Lighting explains three benefits of switching from traditional wiring methods to modular wiring.
Reduced installation time
A benefit of modular wiring systems is that installation time is reduced by approximately 75% in commercial and 70% in industrial applications. This is because of the "plug and play" aspect of the system. Contractors can gain dramatic new efficiencies, and therefore stay competitive, by providing cost-effective project solutions to their customers!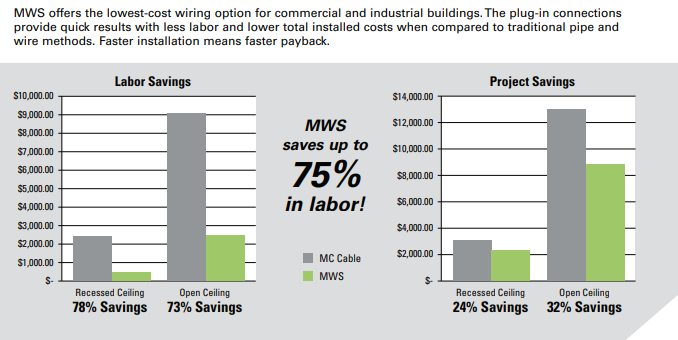 Flexibility
Another benefit of modular wiring systems is their extreme flexibility. Because control and power wires are run through the same system, controls can be easily integrated and tailored to the customer's preferences. Even retrofitting existing facilities with upgraded LED lighting takes far less time than reconfiguring hardwired light fixtures to code. Cooper Lighting's MWS system seamlessly works with recessed, pendant, surface, and downlight LED and LFL luminaries in multiple modular wiring applications.
Easy maintenance
The ease of maintenance with modular wiring systems is hard to beat. With fewer electrical components involved, it's far easier to troubleshoot electrical and lighting problems when a facility is using modular wiring. These systems are luminaire disconnect-rated, so there's no need to shut off power and interrupt operations while fixtures are being replaced or swapped out.
Loeb's commercial construction experts are here to help you get the job done. Contact us today to discuss your next modular wiring project.
Speak with lighting & electrical distribution experts today.
Recent Posts