Summarized Solutions with Loeb
Medical- & industrial-grade equipment
Powerful support where it matters most.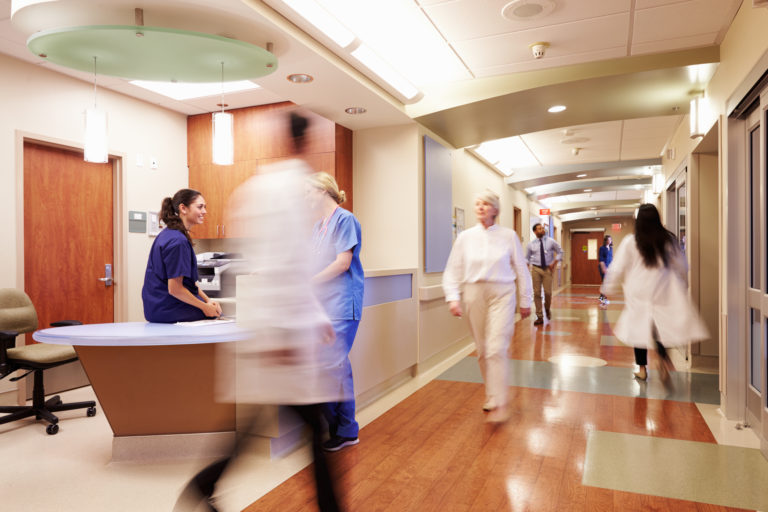 Facilities need reliable and safe electrical equipment—particularly in essential businesses, such as healthcare and food manufacturing plants. They need products they can count on, that withstand anything that comes its way, from frequent use to repeated impact to varied temperatures.
Leviton and Hubbell Wiring Device-Kellems (WDK) create these reliable and safe connections every time—without interruption.
Power strips
These power strip options are designed explicitly for use in healthcare facilities and satisfy electrical safety requirements, allowing facility managers to ensure code compliance and safety.
Leviton's medical-grade power strips come in a few options: standard, surge-protected, and with their patented Inform™ technology. Leviton's Inform™ technology validates the integrity of your electrical distribution system through sensors that continually monitor the device's heath and immediately alert you of a failure–giving your business and the people in it the protection they need.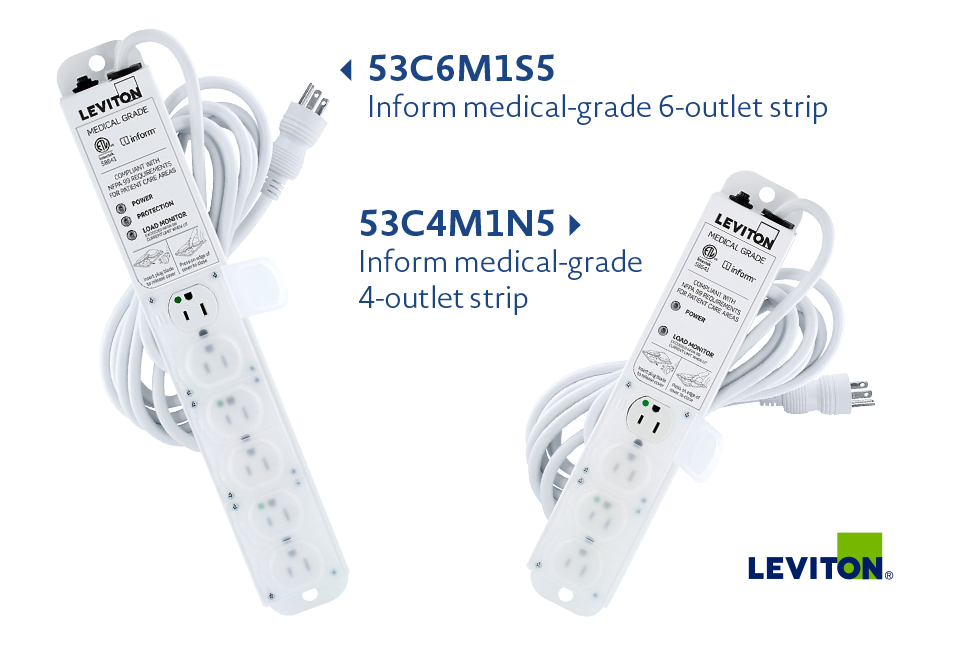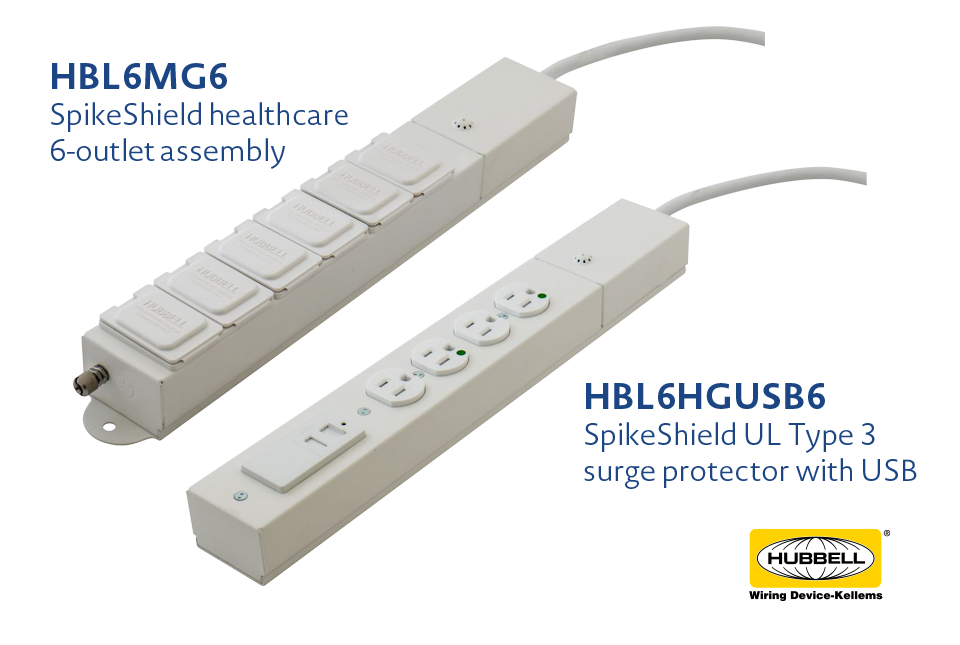 Hubbell's SpikeShield® surge protection power strips are another great option and offer good-better-best levels of products to get you what you need at the right price point. These power strips take a cascading approach to surge protection, including protection at the service entrance, branch panel, and point of use. The SpikeShield® power strips ensure safety with tamper-resistant flip covers that only allow plugs in when the right key is used.
Portable & safe power boxes
Both Leviton and Hubbell WDK offer temporary power distribution boxes that ensure durability, visibility, and spring-loaded closures for protection from the elements.
In addition, Leviton's line of portable plug boxes comes in single- and two-gang, feed-thru, and pendant styles. They are resistant to heat, harsh chemicals, and forceful impacts and come in many cover configurations, including a flip-lid version that is rated NEMA type 3R.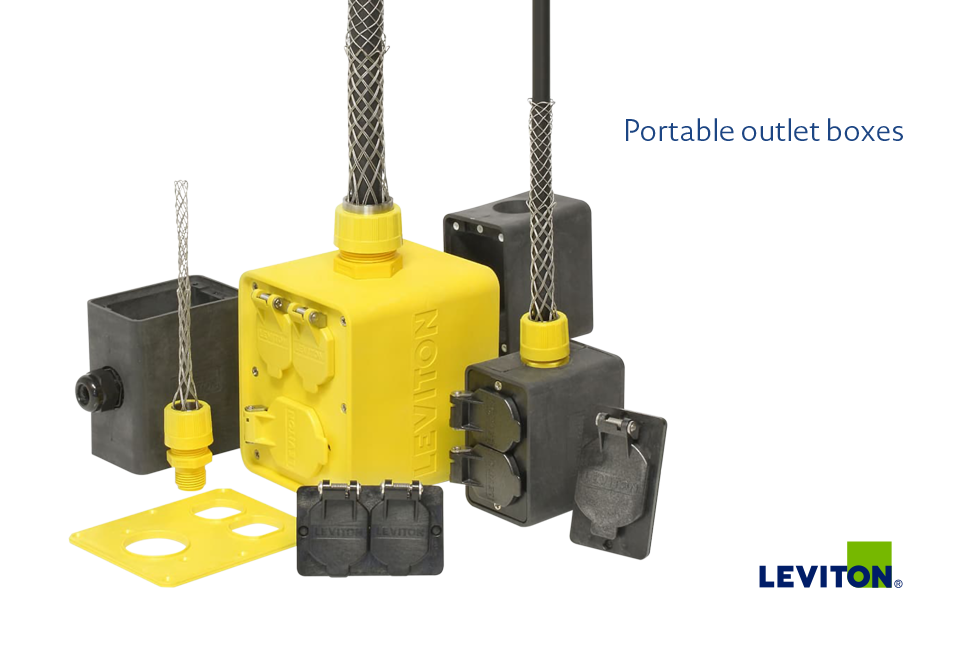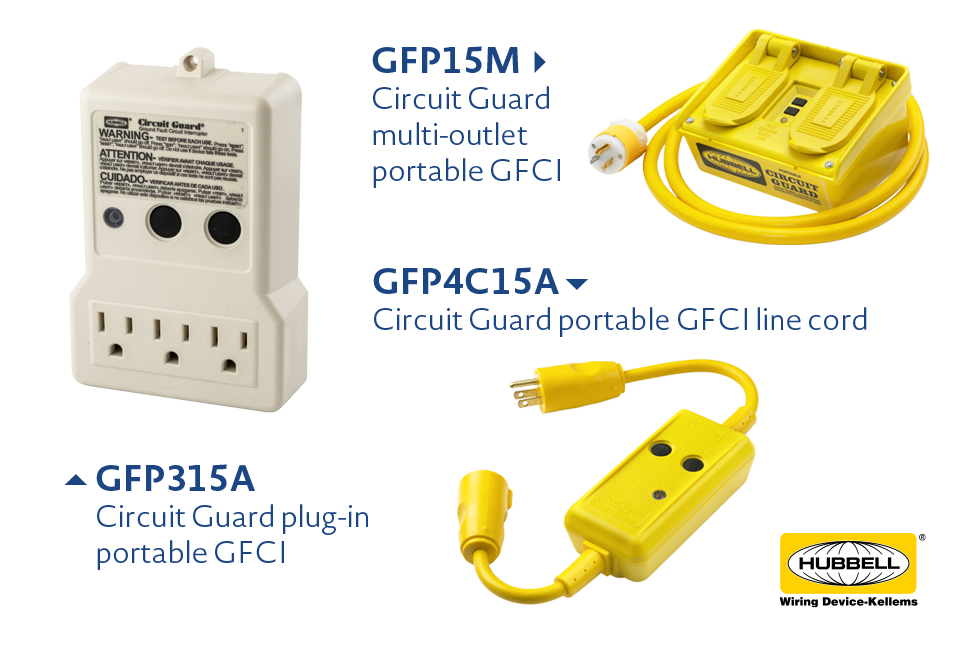 And for use with permanent and portable power sources, Hubbell's Circuit Guard® ground fault protection system shuts off electric circuits when a current traveling through an unintended path (a person, liquid, etc.) is detected.
Receptacles
Leviton's medical- and industrial-grade receptacles include tamper-resistant, weather-resistant, illuminated, and USB options. And many of their receptacles also include added protection against corrosion, UV degradation, and provide compliance with Article 406.9 of the National Electrical Code (NEC) for wet and damp locations.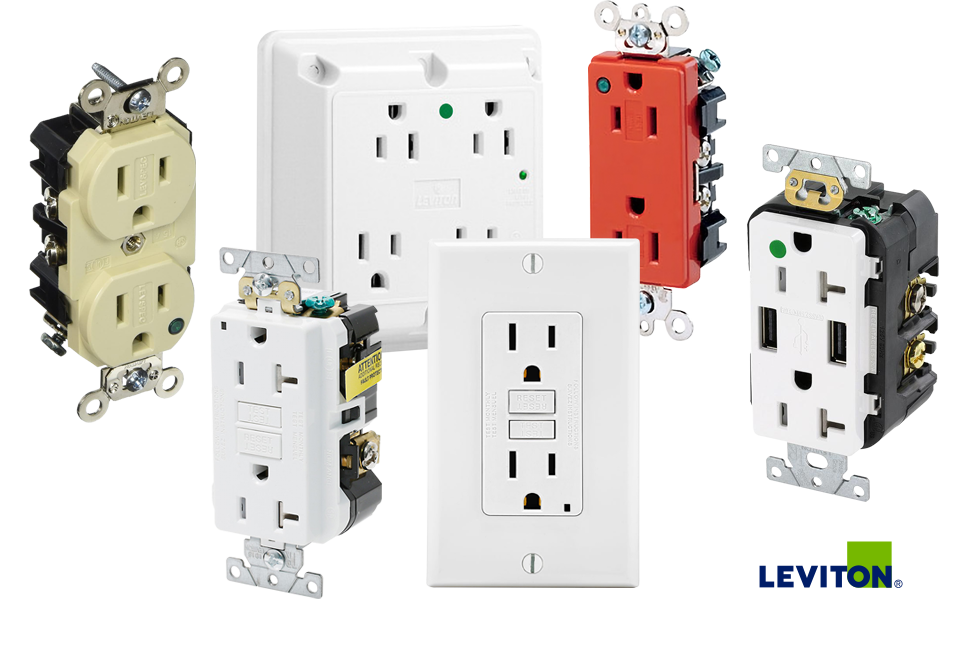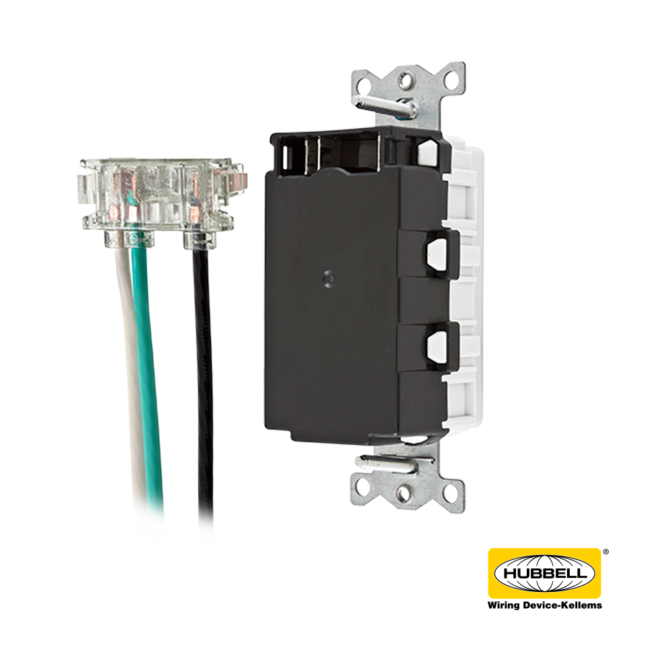 Hubbell WDK's SNAPConnect® receptacles offer reliable connectivity in critical environments that may require change-outs in the future, which can be completed by healthcare maintenance personnel for fast, easy, and safe upgrades. Their modular design eliminates exposed live parts for enhanced safety.
Plugs & connectors
With many options to choose from, Leviton's plugs and connectors include NEMA and non-NEMA configurations. They also all come with an industry-leading limited lifetime warranty.
Black & White® extra heavy duty (15-50 A, 125-600 V)
Wetguard® watertight (15-30 A, 125-600 V)
Rhino-Hide® rough service (15-20 A, 125-250 V)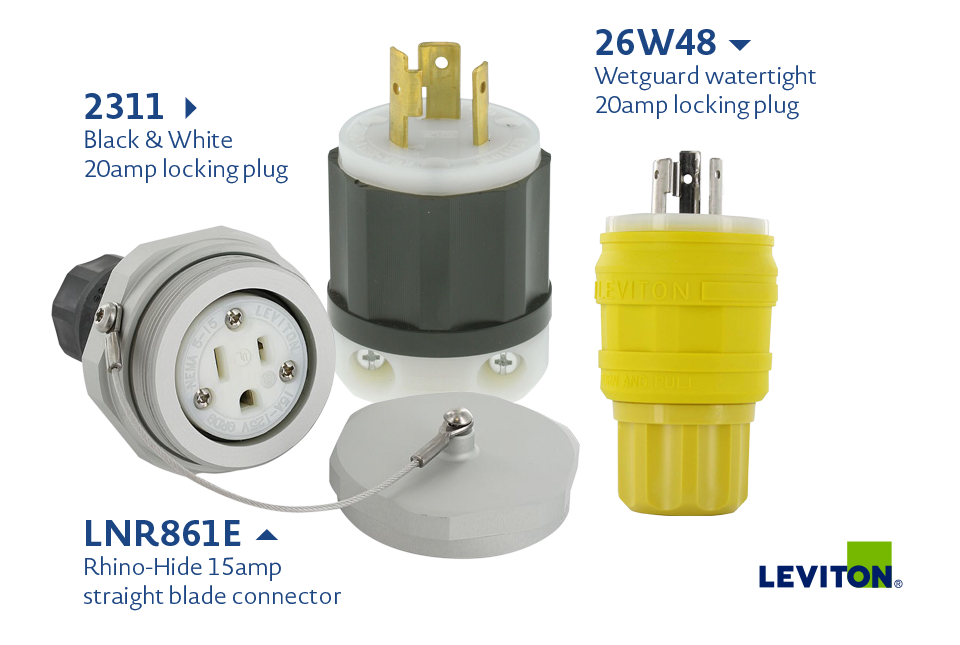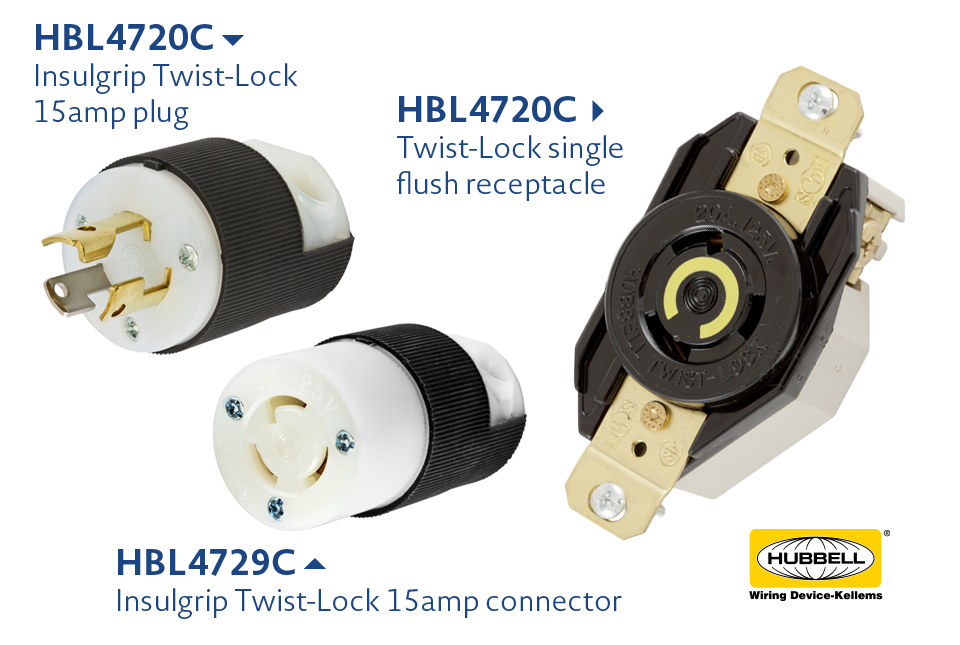 Hubbell's Insulgrip® Twist-Lock® plugs and connectors ensure long-lasting performance in the most demanding environments. They also have water-tight options that minimize collection points with a smooth body design and a cone seal at the cable entrance.
Protect terminations from excess strain with superior cord grip design
Maintain trouble-free connections with high-performance, reliable terminations
Avoid downtime due to device abuse with high-impact nylon construction featuring voltage color-coding for easy identification
Pin & sleeve devices
Pin and sleeve devices seal power connections and protect power delivery from interruption due to moisture, dirt, and chemicals. Guarantee constant uptime in demanding environments.
Leviton's pin and sleeve devices include their patented Inform™ technology, are NSF-certified, and come in standard and watertight configurations.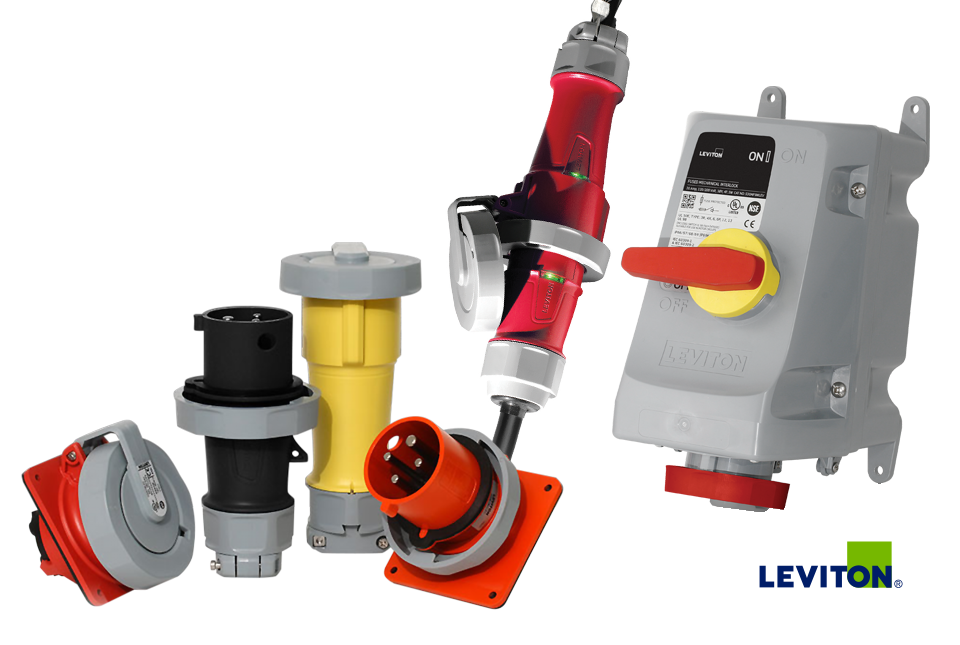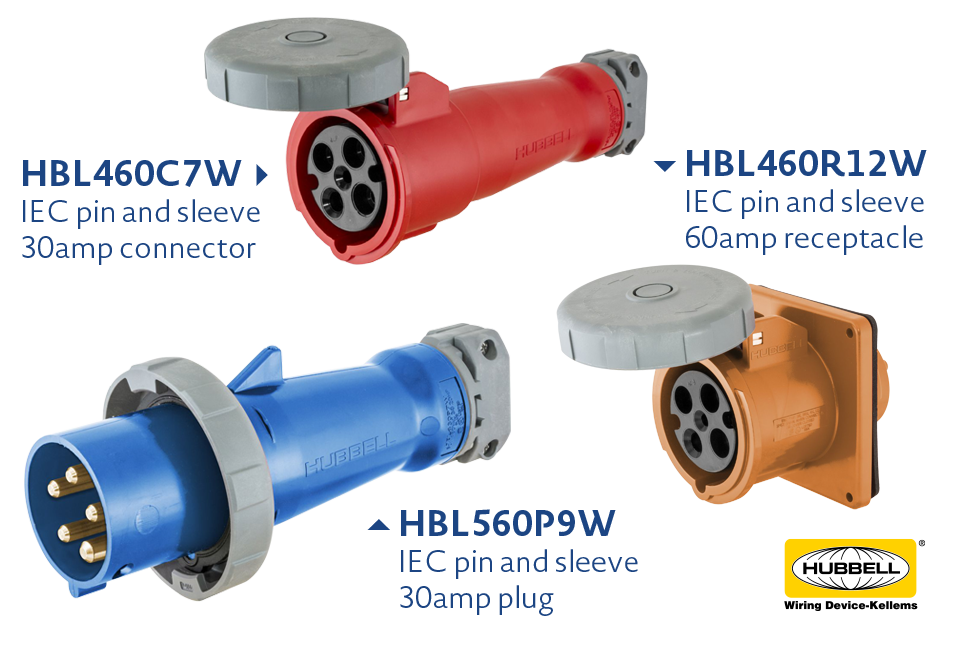 Hubbell's IEC 60309 pin and sleeve devices are manufactured with high-quality polyamide 6 material and nickel-plated brass contacts to meet the toughest industrial and environmental conditions.
Learn more about these medical- & industrial-grade products
In addition to the products listed above, Loeb has access to a wide variety of additional materials to support your needs across multiple industries. As an independent electrical distributor, we have large buying power and trusted relationships with the brands you count on.
As a global community, we can all do our part to ensure our surroundings are safe. Loeb is here to assist you in preventing the spread of disease.
Let us know how we can help. Fill out this form and an electrical and lighting specialist will get back to you shortly. Or, call us at 800.686.6351.
As an innovative electrical distributor of quality materials and an expert service provider, Loeb Electric is committed to be the partner you can trust. Read more about The Loeb Difference.
Bringing you quality materials from best-in-class manufacturers.